Experience you can
bank

on!
The Mortgage Scout team offers a combined 50 years of banking and mortgage brokering experience. Recognized as top performers, we've collectively helped thousands of clients by offering unique financing solutions to make the dream of homeownership a reality and then continue building your wealth through real estate investment.
This is the first step on your road to homeownership. A pre-approval is a conditional commitment from your lender to grant you a mortgage, which will help you understand what you can comfortably afford to spend. Let's get you pre-approved today!
Book A Call With One Of Our Experts
You have questions and we have answers! Let's talk about what we can do to get you into your first home, upgrade to a new home, tap into your home equity, take advantage of today's low rates through a refinance or whatever your mortgage financing needs may be.
Find Your Best Mortgage Today!
Step #1 in the homebuying process is your pre-approval – a conditional commitment from your lender to grant you a mortgage. Let's get you pre-approved today!
Careful planning is required to ensure a smooth purchase no matter how many homes you've owned. Let's design your homebuying plan!
Refinancing your mortgage empowers you to take advantage of lower rates, or access home equity to pay off high-interest debt, renovate or free up cashflow.
Real estate is a profitable long-term investment. Whether you're looking to buy just one or multiple income properties, we can help maximize your hard-earned money.
Thinking of customizing your next home? We'll help you understand everything you need to know to ensure your new home purchase runs smoothly.
When you're self-employed, lenders often require additional information to support income, credit and tax payments. Let's get you qualified today!

Book a Call with One of Our Team Members to Discuss Your Goals
We want to hear your story so we can understand your goals and dreams, and customize a mortgage plan that works best for your unique situation.

Apply For Your Mortgage
If you're buying a new property, we'll secure a pre-approval so you know what you can comfortably afford. And if you're renewing or refinancing an existing mortgage, we'll ensure we find your best options.

Review All Your Options
We'll get the lenders competing for your mortgage business. Next, we'll review your options so you understand each choice.

Choose The Best Mortgage For You
We'll clearly explain which option we believe best fits your current financial situation and future goals, and why this is our top pick.
Melody Shakerin
2023-06-17
Your search for a mortgage advisor ends here. You don't need to look any further or worry about a loan or a mortgage anymore. I was lucky enough to get advice from Hercules not once but twice in two separate transactions in different years. He is quite knowledgeable and honest. He gives you options based on your situation and make the complicated process easy to understand. I was mislead by one of the major banks I was dealing with and I caught the mistake right on time because of him. He's trustworthy with a good heart. You're not going to have a regret dealing with him. Thank you for your vigilance Hercules.
Deren helped my family and I with closing on a new build property for approximately 2 years. He was great from the start where he worked with us to determine what we could afford, to the crunch time when it was finally time to close on the property. Deren took the time to explain the process and to answer all our questions/concerns. We will definitely contact him again when the time comes to purchasing another house. Thank you Deren!
From the beginning I knew I was in trusted hands. I'm a first time new home owner. I have to thank Mortgage Scouts for making it easy for me. Thanks Deren for explaining everything in detail and answering any questions we had. The Scouts worked diligently with the lawyer and realtor also gave me great advice when dealing in realestate. Thank you for your guidance and the confidence to see our dream a reality.
I had a joint line of credit with Simplii Banking with my husband Gerry. He passed away in March and things started to go downhill with Simplii.....they froze my account and cancelled my credit card. I was passed along to Hercules at Mortgage Scout Inc and never regretted my decision to deal with him in setting up a Reverse Mortgage for 3 years to get my life back and decide what I will do in the future. He was very understanding and no matter how silly my questions might be he was always there. Thanks Hercules for all your help.
Christina Radin
2023-05-27
Tania VierA is one of the most professional, patient and knowledgeable agents in the business. She always goes above and beyond for her clients. She has worked with us for many years, and has always been an advocate for the best rates when dealing with our mortgage. I recommend her to everyone. Tania is a seasoned agent who is always 1 step ahead and put her clients first! Thank you Tania !
It was great to have Deren from Mortgage Scout Inc. in my corner (since we were Fight to End Cancer team members in 2019) when recently securing my financing for a real estate investment. He worked tirelessly to acquire the best deal possible in a limited amount of time. I highly recommend you reach out to Deren to see how he can help you. Rick Denley
Fast and efficient closing handled by Derek and team. Even my lawyer was pleasantly surprised with the efficiency that the team responded and provided him with the necessary information. Deren was very patient with me in explaining the details and answering questions I had regarding the process. The attention to detail and prompt response were by far some of the greatest assets in ensuring all ran smoothly and deal closed without a glitch. Highly recommend!
Valentina Cole
2023-05-23
Deren and his team at Mortgage Scout went above and beyond to make buying a home an incredibly easy and straightforward process. This is not our first time we've used Mortgage Scout, it's always the first call we make! I can't recommend the Mortgage Scout Team enough! Thanks, again Valentina & Matt
Deren and team were fantastic. They were extremely helpful, and talked to me through every step of the process. They also answered my numerous questions and always had my best interests in mind.
Michael Harrison
2023-05-16
I have been working with Tania from Mortgage Scout over the past two months to secure a mortgage on our home. Tania has been amazing! She was able to help us navigate all the question we had and was super professional and friendly. She went above our expectations! I highly recommend her for anyone looking to secure financing on a home.
Just a few of our 40+ Trusted Lender Partners Power-Saver
Options
6.20%*

5 Year Variable
(Prime - 1.00%)
Apply Now
PowerSaver options were designed for the sole purpose of yielding the lowest possible rate. These options are ideal for customers who will see their mortgage term through to completion.
Full-Featured
Solutions
6.75%*

5 Year Variable
(Prime - 0.45%)
Apply Now
Competitively priced terms, full-featured solutions come equipped with additional features such as prepayment, portability, ability to refinance and pair with additional products which could yield greater savings to consumers in the long run.
Outside-The-Box
Programs
Apply Now
These programs are designed for customers who have challenges in proving income through conventional means, wish to borrow funds beyond the limits imposed by conventional lenders or have credit blemishes.
*The above noted rates are subject to approval and change without notice
We're here for you throughout your homeownership journey – as you buy your first home, start a family and upgrade to a new property, retire and every step in between. We provide customized financing solutions to make the dream of homeownership a reality and then continue building your wealth through real estate investment.
Download Our Free Mobile App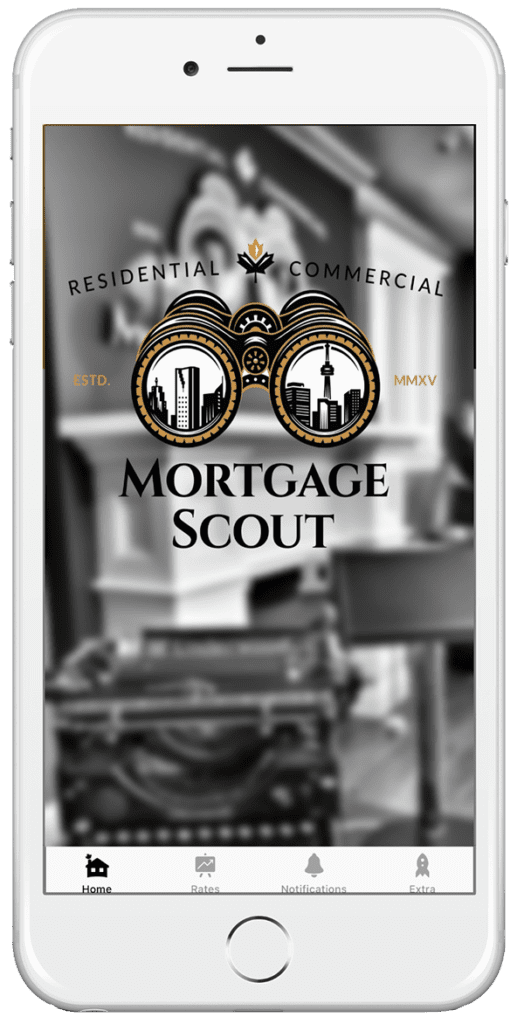 The Mortgage Scout team is highly regarded as go-to experts when discussing the real estate and financing needs of Canadians. We're regularly featured in such media as: